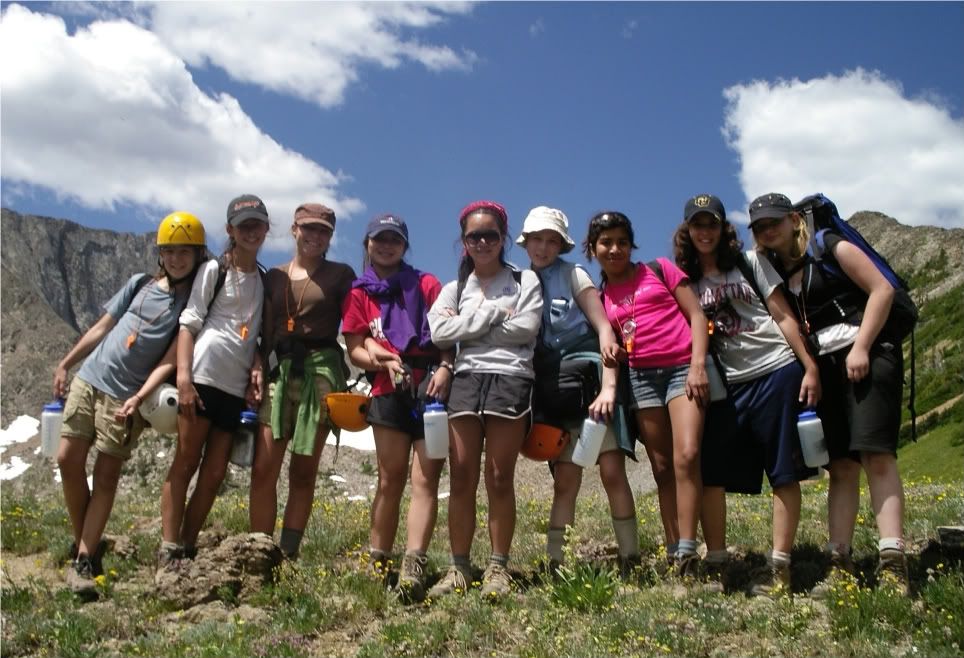 We are going to spend the next three days talking about our good friends at The Women's Wilderness Institute. Today we are going to give you an introduction to who they are, and what programs they are running for girls this year. Tomorrow we will hear from Lori, the mother to "Little L" who is going on her third summer participating in The Girls' Wilderness Program, who we will hear from on Friday.
So, what is The Women's Wilderness Institute and what are they looking to help girls achieve this summer?
The program
The Girls' Wilderness Program, offered by The Women's Widerness Institute, is designed to build the strength and resilience girls need to effectively negotiate the challenges of contemporary female adolescence, and the leadership skills to create positive futures for self and others.
The visionary program model is designed to meet the specific needs, issues, and learning styles of adolescent girls as well as to develop the self-efficacy, self-confidence, leadership skills, and capacity for authentic relationships that have been shown to be significant protective factors for girls.
The program serves a racially and economically diverse population of girls, ages 8-18, on 1- to 12-day wilderness-based courses of backpacking, rock climbing, and expressive arts. Course activities are facilitated within a program model that builds courage, confidence and leadership skills, and helps each girl express her authentic voice.
The original model of teaching decision-making, designed to build self-awareness, critical thinking skills, and the ability to make self-affirming choices uses the many choice-points of a wilderness expedition to give girls the skills and self-awareness to make choices that are in their own best interest, and based on their personal beliefs and values rather than the expectations of others or impulsive decisions. This awareness and ability to express personal values and needs is directly related to girls' ability to make positive choices in their life.
A key element of the program is the role-modeling component; caring adult women leaders with the capacity for authentic relationships. Research shows that modeling is an effective pathway to self-efficacy, and the degree of perceived similarity of the role model to one's self (i.e. same gender) is a key factor.
Studies
Three outcome studies conducted by independent researchers have validated the efficacy of this program model. The first two found that The Girls' Wilderness Program had a statistically significant positive impact on participant's self-confidence, self-esteem, and ability to initiate action. The second study also found an increased positive body image and body acceptance. The third revealed positive changes in the girls' sense of self including perceived academic competence and self worth.
The Women's Wilderness Institute is committed to offering this program to any girl who wishes to have this experience, and serves girls of all races and economic backgrounds. In the history of the organization, no girl has been turned away for lack of funds. In 2011, TWWI will serve approximately 140 girls and anticipate that half of our participants will qualify for full or partial scholarships.
2011 calendar
What programs are available in The Girls' Wilderness Program? Looks like some rock climbing, leadership courses, wilderness expeditions and MUCH, MUCH more. Click here to see all of what's on tap for the summer of 2011!
Stay tuned tomorrow to hear from Lori about the decision to send her daughter to The Girls' Wilderness Program, and check back on Friday to hear from "Little L" about how each experience in The Girls' Program has been a life changing event!
https://chickswithpicks.net/wp-content/uploads/2015/08/CHICKS_ROCK_Logo_final-232x300.png
0
0
Chicks Climbing
https://chickswithpicks.net/wp-content/uploads/2015/08/CHICKS_ROCK_Logo_final-232x300.png
Chicks Climbing
2011-04-20 09:23:02
2011-04-20 09:23:02
The Girls' Wilderness Program at TWWI